Our Mission
At James Fork Regional Water District, we are committed to providing safe, high quality water services to our community, while maintaining a standard of excellence in customer service and environmental conservation.
Bill Payment Options
Looking for the most convenient way to pay your bill? We offer a wide variety of payment options to our customers. Simply choose the option that best suits your needs... Learn more...
Conservation Tips
There are a number of easy ways to save water, and they all start with you. When you save water, you save money on your utility bills. Here are just a few ways... Learn more...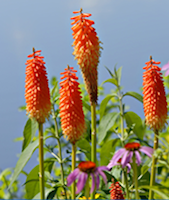 May 07, 2013
Google "Xeriscape" and Prepare To Be Amazed By All the Drought-Tolerant Beauty!

Summer is arriving, there is no stopping it. As the cool breezes of spring give way to higher temps we all take great care to water the new flowers, shrubs and gardens planted only weeks ago....